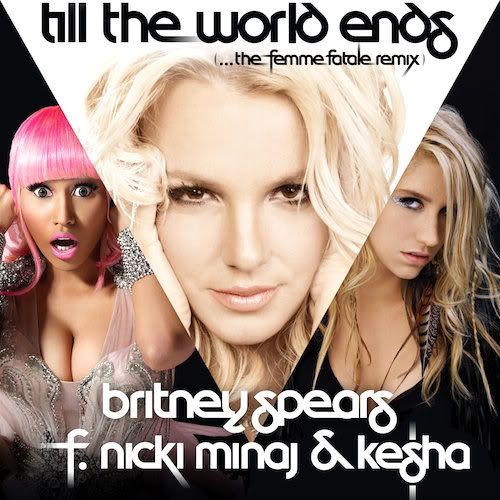 It appears that having peers jump on your track is the latest trend in promoting singles. And what better way for Britney Spears to get a high charting song without promoting it, than collaborating with another big name. Apparently a few sloppy performances and a video with a double doing the rather underwhelming choreography wasn't sufficient to make "Till The World Ends" a big enough hit. Therefore Britney's team decided to invite Nicki Minaj, who's also touring with Spears this summer, and Ke$ha, who actually wrote the song, for a femme fatale remix.
Starting with a badass verse from Nicki Minaj, the remix follows a somewhat messy structure, which might make you feel lost by the time the second verse begins. Copy-paste-ing the "oooh-ooh-ooh-oh-oh" part after the first chorus  was unnecessary. However, the dub-step dance break towards the end of the song is definitely a winner and it should've inspired a whole different concept for this remix. Spears didn't record any new vocals for the track and the rumor is that they've used Ke$ha's vocals from the demo. I wouldn't be surprised as the track does sound rushed.
Nevertheless, having Nicki Minaj and Ke$ha featured on the track truly enhanced it. The only reason the original might sound "sicker than the remix" is because Britney's nasal vocals are the only thing to be heard on it. I can see a reason for her to "sniff, sniff, cry" as Ke$ha sings her own single better than her.